Divac's Week 5 NFL Flop, rambling and incoherent thoughts that may or may not have anything to do with every NFL game this week.
Chicago Bears @ Indianapolis Colts
Hey look, Kevin White is back on I.R. Can't wait to see what bone he breaks when he returns in 2017. As a tortured Bears fan, I realize that this type of disappointment is basically a rite of passage for a Bears draft pick. Since 2000, the Bears have drafted nine wide receivers in the third round or earlier. Here's the list:
2000: Dez White (69th overall)
2001: David Terrell (8th overall)
2004: Bernard Berrian (78th overall)
2005: Mark Bradley (39th overall)
2006: Devin Hester (57th overall)
2008 Earl Bennett (70th overall)
2009: Juaquin Iglesias (99th overall)
2012: Alshon Jeffery (45th overall)
2015: Kevin White (7th overall)
F*** this list. Devin Hester was obviously great, but not really even a wide receiver and Alshon Jeffery is pretty good in his own right if you can look past his ability to strain his hamstring making breakfast. The rest of this list is an abortion and David Terrell is the bane of my existence.
Prediction: Colts 27, Bears 17
New England Patriots @ Cleveland Browns
You may think the big story in this game is the return of Tom Brady, but it isn't. The real story is how the refs will go about f***** over the Browns again. I mean, only a Browns player (Duke Johnson Jr.) could fumble, clearly recover it, and still lose possession.
Last week the bogus taunting penalty. This week the phantom fumble. Johnson never lost the ball. How does this happen?? pic.twitter.com/Uo8JZ39Wu0

— Jay Crawford (@jaycrawfordespn) October 2, 2016
What are they fighting over? It's like there's two footballs on this play. Duke Johnson emerges with the football and the Browns and Redskins guys are still scrumming it up. What kind of sorcery is this?
I love how so little was made of this. Like if this were any semi-respectable franchise, this would have been talked about all week. This is the Browns though so it's just hilarious. The Browns aren't even allowed to recover their own fumbles now. It's like NFL Blitz where you get a nice lead and then all of a sudden you can't take two steps without fumbling the football because Midway installed some function to make games automatically more competitive. This is like the anti-NFL Blitz though because the Browns are always trailing! Instead, it's the NFL installing some function to make it even harder for the Browns to win football games than it already is. How great is that? The NFL is always better when the Browns are losing, although I'm not sure how that can be said when we don't know what the NFL is like when the Browns are winning. Can't wait for the refs to rule a Terrelle Pryor touchdown reception as a Patriots pick-six going the other way.
Prediction: Patriots 56, Browns 0
Philadelphia Eagles @ Detroit Lions
The last time former Lions head coach and current Eagles defensive coordinator Jim Schwartz returned to Detroit as defensive coordinator of the Bills, he ordered his players to carry him off the field following their 17-14 victory.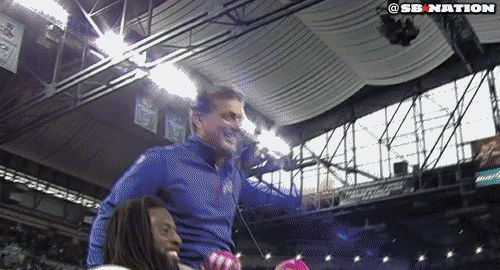 After Matt Stafford throws three picks and the Eagles ransack the Lions, I hope Jim Schwartz takes a big s*** on the field and then laughs at Jim Caldwell when he steps in it.
Prediction: Eagles 23, Lions 10
Tennessee Titans @ Miami Dolphins
Like my friend The Informer (you should really check out his picks here), I have absolutely nothing to say about this game so here's a great meme.
Prediction: Dolphins 24, Titans 13
Washington Redskins @ Baltimore Ravens
So this happened last game.
Josh Norman Interception and "Bow & Arrow" Penalty pic.twitter.com/myAckO05J2 https://t.co/y6RF3YPT3f

— The BnG® (@HailBnG) October 2, 2016
"Shooting a bow & arrow." Can't make this s*** up. Josh Norman was fined $10k for this too. How much would he have been fined if he shot a real bow & arrow? Like, Norman just pulls a bow and arrow out from under his jersey, blindly fires it, and then next thing you know Kirk Cousins is being carted off the field with an arrow sticking out of his neck. Is that automatic disqualification or do you still need two personal foul penalties to get that? Does Goodell suspend him for that? What if the arrow were to pierce a football instead of Kirk Cousins' neck thereby deflating it? That would be a season-long suspension I'm guessing.
Prediction: Baltimore 24, Washington 16
Houston Texans @ Minnesota Vikings
The Minnesota Vikings are the best team to ever play the game of football now and being compared to the '85 Bears so naturally they will end up losing to Trash Osweiler and the Houston Texans.
Prediction: Texans 21, Vikings 20
Denver Broncos @ Atlanta Falcons
Do you remember when the Falcons started off 7-1 and finished the season 8-8? You may remember that because it happened last season. Everyone's acting like it didn't happen though because Julio and Matt Ryan trampled a Panthers team that was lit up by Blaine Gabbert for 243 yards and two touchdowns. That's the equivalent of like 2,000 yards and 40 touchdowns for a normal quarterback. Asking if the Atlanta Falcons are "for real" is like asking if a Ryan Lochte gas station story is "for real."
Prediction: Broncos 34, Falcons 13
Cincinnati Bengals @ Dallas Cowboys
This one's going to go down as the "Dak Prescott game." The one where Jerry Jones is shown on camera sending one of his assistants down to the field to fetch Tony Romo off the sidelines while mouthing the words "take him out back" as Dak leads an inspiring fourth quarter comeback against the Bengals.
Prediction: Cowboys 27, Bengals 24
Buffalo Bills @ Los Angeles Rams
I'm trying to imagine a world in which Case Keenum is leading a 4-1 NFL team, but all I can envision is this:
https://www.youtube.com/watch?v=VJHlcurFVUI
Take cover.
Prediction: Rams 20, Bills 17
San Diego Chargers @ Oakland Raiders
This is that game you expect to be a fantasy bonanza that turns out to be like 12-7 on four Sebastian Janikowski field goals.
Prediction: Oakland 12, San Diego 7
New York Giants @ Green Bay Packers
Odell Beckham isn't having fun playing football anymore. Here are some ways to make football fun for him again:
Each player is equipped with an actual bow and arrow to be shot one time at any moment during the game.
Spot the Browns a 28-0 lead and then unceremoniously have the refs f*** them over in ways that can't even be imagined until they are losing by a comfortable margin. (Not sure how this is fun for Odell, but it is fun for everybody else).
Replace the Giants offensive line with Peyton Manning sitting on a couch watching NFL Sunday Ticket on DirectTV.
Stuff Ben McAdoo in a locker pre-game and let Odell coach the team.
Cancel the game and take the entire team to Six Flags instead.
What we can conclude from this list is that it will be very hard to make football fun for Odell Beckham unless Eli and Odell start playing better and scoring touchdowns again.
Prediction: Packers 34, Giants 27
Carolina Panthers @ Tampa Bay Buccaneers
Cam Newton is concussed because he decided not to run into the end zone and take a monster hit instead so that means Derek Anderson will start on Monday Night for the Panthers. Anderson has played on the Carolina Panthers since 2011 and has made two starts for them. Both of them came in 2014 and both of those were wins against the Tampa Bay Buccaneers. If Anderson pulls this one out against the Bucs on Monday night, I think we've reached the point where you just bench Cam Newton for Anderson — regardless of Newton's health status — when the Panthers play the Bucs again Week 17.
Also, Derek Anderson is just the third quarterback EVER to start a game for both the Browns and the Panthers. Quite an honor. The other two? Vinny Testaverde of course because he started for every team in the NFL and…
https://www.youtube.com/watch?v=9OolG-Oc0P4
THOOOOOOOOOSE ARE NOT MADE FROM SCRATCH BISCUITS!
Jake Delhomme "Defender of the Fresh Biscuit." Elite company.
Prediction: Panthers 31, Bucs 21
That's all I got. Enjoy Week 5.