We just witnessed our first Les Miles-less week of SEC Football in more than a decade and — as a loyal fan of the Alabama Crimson Tide — that makes me kinda sad. Let's take a look at the top five reasons why every Alabama fan is going to miss Les Miles.
The Press Conference Quotes
While Alabama fans get to enjoy National Championships, we don't get to enjoy goofy press conferences that Les Miles is known for.
Can you imagine Nick Saban coming to a podium and talking about Columbus day or eating grass?  I love Coach Saban — few things get me going like a Saban rant — but Les has a way with words.  I will miss those words during the season as we all eagerly await Alabama-LSU weekend to roll around in November.
He's the Mad Hatter
Who couldn't love that nickname? Les Miles earned that nickname for his penchant for gutsy — borderline insane — play calls. More times than not, they actually worked out for him.  Remember this stupid pass call in 2007?
https://www.youtube.com/watch?v=jP3Q1US7Mps
Well, that stupid call won LSU a huge game over Auburn in a National Championship season.  Another great one was last season (2015) against Florida:
https://www.youtube.com/watch?v=TCVQ2F12oKY
Marginally less risky, but how many teams can pull that play off? Miles was one of the few guys to even dare a fake field goal play like that.
Loyalty
Nick Saban has had his own issues with loyalty, but you can't say that about Les Miles. Miles, a Michigan alum who played under Bo Schembechler, turned down his alma mater TWICE!
https://www.youtube.com/watch?v=TDKVvILygXY
That is a damn strong statement to turn down the school that helped earn you your career, especially one as prestigious as Michigan. Miles' loyalty to his players is well known too — but his loyalty to LSU (and it's grass) was undying.  He was never going to leave that school and it is a shame they left him.
Tough Love
From Bear Bryant to Gene Stallings to Lord Saban, Alabama has frequently featured head coaches known display some "tough love." Les Miles is cut from that same cloth.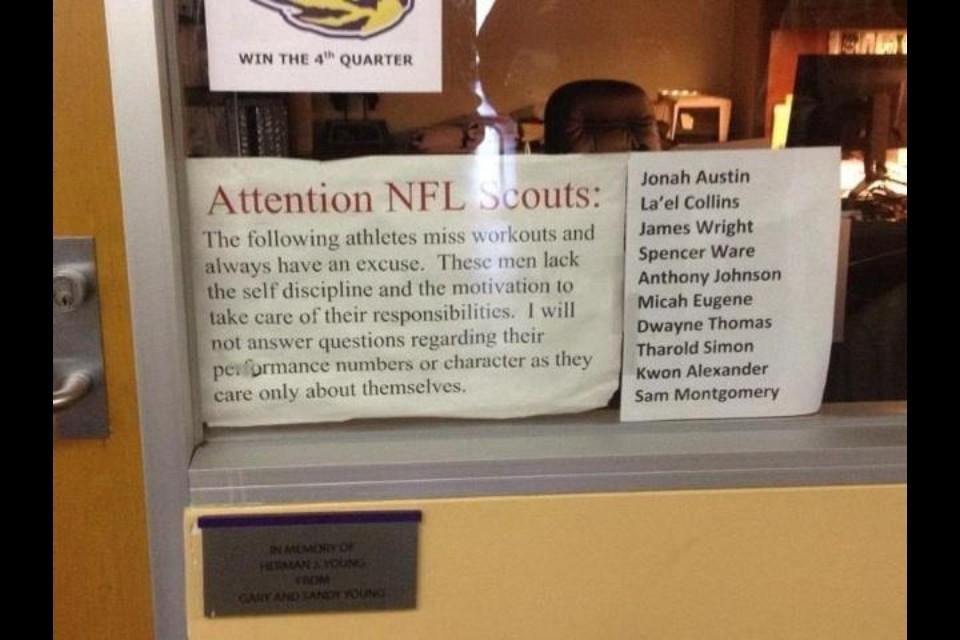 Above is a picture from 2012 that LSU's conditioning coach left on his door when players were training for the NFL Draft. You better believe Miles signed off on something like this and was in full support of his coaching staff's intention of calling out players who didn't work hard.  You have to respect the backhanded motivation.
He lost to Alabama … like a lot … like five times in a row
Do you know what Alabama fans love more than good competition? Kicking the living s**t out of their rivals, and Les Miles' time at LSU ended on a great note for Crimson Tide fans. Miles beat Alabama in the 2010 and 2011 regular seasons, but after that 21-0 demolition of Miles' top-ranked Tigers squad in the 2011 National Title rematch, this rivalry has been all Alabama. As a competitive human being, I am sad Miles' didn't get to sink or swim at LSU based on this season's game against Alabama. As a Crimson Tide supporter and alumnus, I remember that LSU got smoked or blew leads in each of the past four seasons to 'Bama.
https://www.youtube.com/watch?v=RPG_ygw0SS0
So fare thee well Coach Miles. I will miss that grass eating, mad hatting, Alabama losing SOB. Good luck at whatever ACC school picks you up. They won't regret it.