EL SEGUNDO, Calif, July 14 — The Los Angeles Lakers have acquired forward Lamar Odom, forward Caron Butler, forward Brian Grant and a future first round draft pick from the Miami Heat in exchange for center Shaquille ONeal, it was announced today.
It's been 12 years to the day since the official end of the Shaq-Kobe era which brought three straight NBA championships and this legendary display of dancing to the Los Angeles Lakers.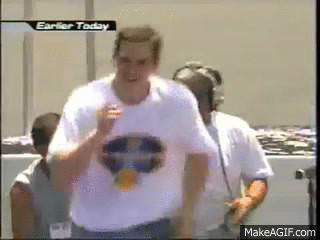 The highly public feud between Kobe Bryant and Shaquille O'Neal that led to Shaq's trade to the Miami Heat is so noteworthy that there's an entire Wikipedia page dedicated to it called "Shaq-Kobe Feud." Not just like a couple of paragraphs either. Were talking nearly 150 references here.
The feud is much too involved and depressing to get into so let's watch some highlights from Game 3 of the 2002 NBA Finals instead. Enjoy.
https://www.youtube.com/watch?v=bMqDBxzL_Ew
Takeaways:
Todd MacCullough as a starting center in the NBA Finals guarding Shaquille O'Neal. I still  can't believe it's not butter.
I really don't know when or how the Nets scored. It didn't happen in this video.
Robert Horry made a big shot of course.
The "NBA on NBC" music at 6:15 still gets me going every time I hear it.
So much Keith Van Horn action. Perfect time for this video.
https://www.youtube.com/watch?v=I8E31Gt5n5k
That play at 6:28 is the most Kobe play ever. Double teamed by Kidd and Kittles. Loses the ball. Gathers it and drains a floater with 19 seconds left.
Bill Walton on the call. From the NBA Finals to playing the glockenspiel during late night Pac-12 games with Dave Pasch.
https://www.youtube.com/watch?v=J91H5e39Sj8
I f****** love Bill Walton.