It's almost fantasy football season (not really), so let's do a Game of Thrones fantasy draft. It's a ten team league, non-keeper/dynasty and scoring is Game of Thrones standard except it's a half PPR (point per rape). (WARNING: CONTAINS SPOILERS)
1. Khaleesi
Khaleesi is like 2006 LaDainian Tomlinson. No-brainer first overall pick. She's now the undisputed lead back for the Dothraki and a sure bet to stay healthy in 2016. Coming off her best performance of the season in Episode Four, she's the heavy favorite to take home MVP Game of Thrones honors and she's also super hot. Oh yeah, dragons too. Total package.
2. Jon Snow
Jon Snow may be a little bit of a reach here as he hasn't looked all that explosive following his devastating ACL tear last season, but the potential for a comeback season is definitely there. He's going to be getting all the carries for Castle Black and has some extra motivation with brother Rickon Stark being held captive by Ramsay Football in Cleveland (Winterfell). Snow's production up to this point has been rather disappointing, but he may be in store for a big second half of the season as he has more time to recover from his ACL tear and approaches the soft part of his schedule which will likely see him matching up with the Browns at least a couple times.
3. Tyrion
Another safe pick early in the first round as Tyrion is the surest bet behind Khaleesi to say healthy. There would basically be a Game of Thrones viewers' mutiny if anything were to happen to either Khaleesi or Tyrion. Due to his small stature, Tyrion isn't a multi-dimensional threat like Khaleesi or Snow, but he will pound the rock with great quote after great quote. Think vintage Arian Foster if you're taking Tyrion here. He has filled in admirably for Khaleesi as the lead back of Mereen and has a nice supporting cast with Varys, Missandei, and Grey Worm by his side. His most recent transaction with the emo slavers is a bit concerning and may backfire, but Tyrion is in a great spot as of right now to be a consistent contributor in fantasy Game of Thrones.
4. Ramsay Football
Huge boom or bust pick right here. There is no imminent threat to Ramsay's position as lead back of the Browns, but he's a substantial injury risk as he could really end up dead at any point this season. If he stays healthy, Ramsay could very well end up being the top fantasy performer behind Khaleesi especially considering the half PPR format. When on the field, Ramsay is going to be an elite contributor. He's a playmaker and makes things happen on each and every play. He consistently delivers and always strives to be even more sadistic than he was the previous week. It would be a wise strategy to handcuff Ramsay with a sleeper like Baelish Littlefinger. Bonus points for his note to Jon Snow.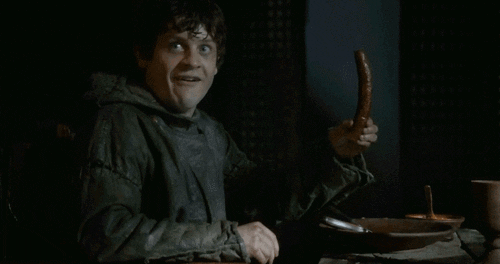 5. Ser Gregor Clegane
Pure speculation here, but I'm expecting a big impact from Robo-Mountain in the season's second half. He's been rather quiet so far and you have to question his coaches commitment to getting him more involved in the offense. However, High Sparrow Goodell will likely force their hands and Ser Gregor will make a push for more playing time. If given the opportunity, Gregor will rack up Game of Thrones fantasy points unparalleled to anybody else on the board due to his sheer size and ability to dominate opponents. He's also coming off reconstructive knee surgery and appears to be even stronger than he was previously if that is even possible. This could truly be Gregor's breakout season.
That's the first five picks of the Game of Thrones fantasy draft. Stay tuned for the second half of the first round.