New York Mets starter Bartolo Colon is a treasure trove of just insane baseball nuggets that will just blow your mind. The guy played on a team with Orel Hershiser who played on a team with Dusty Baker. There's one degree of separation between Bartolo Colon and 66-year-old Dusty Baker! The guy was basically left for dead after being cast-off by the Angels. …and that was TEN YEARS AGO! He also does s*** like this: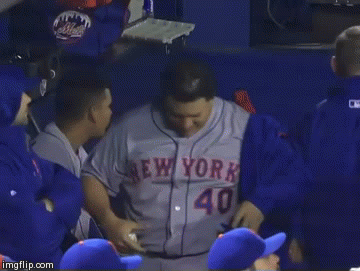 And this:
And this:
I could basically go on forever with these so I'll stop here. Not only is Bartolo Colon one of two remaining All-Stars from the 1990s (the other is Alex Rodriguez), but now he is officially the last remaining Montreal Expo.
You see, Blue Jays infielder Maicer Izturis recently retired which is only important because it officially made Bartolo Colon the last Montreal Expo remaining in the MLB. Izturis played 32 games for the Expos in 2004 two years after Colon went 10-4 for the Expos in 2002.
So it's not Vladimir Guerrero, it's not Brad Wilkerson, it's not Jose Vidro, it's not Jose Macias, it's not Terrmell Sledge or Endy Chavez. ..it's the BFF (Big Fat Fireballer) Bartolo Colon that is the last Montreal Expo left.
In honor of that here's an absolute cannon from the greatest Expo of all-time Vladimir Guerrero:
https://www.youtube.com/watch?v=jdzM02BgL-k
God bless Bartolo Colon. I hope he plays another 20 years.