It's the year 3023, hockey is now an inter-galaxy sport, the planet Xenon has dominated the league for years. Xolthar Nebulux is the leagues best scorer and he just broke Gretzky's single season points record with a whopping 500 point season. To restore order to the sport we must ensure Gretzky's record is secured and never broken. The human race must live on in hockey lore…that's why The Turkatron was sent back in time from the future…in Canada, to be your hockey specialist. Each week highlighting all you need to know in the world of puck.
Holy kitty cats are the Panthers good! This is the same team I called out for having depressingly poor attendance, well hats off to the folks of Sunrise for figuring out there's a show to see and SELLING OUT THEIR ARENA! How good are the Panthers? Really good, like 2nd best in the East, like nine wins in a row, like Jaromir Jagr is my hero. The 43 year old legend notched his 132nd GWG of his career in a two goal effort, good enough for best ever. What's better for Jaromir Jagr is that he already lives in Florida, joining an army of grandparents who already dominate the state. You'd better bet that he's got his ticket punched for the All-Star game too (leads Panthers in points), but for Jagr, a week off may be a more tantalizing reality, even though it's not happening. But who can blame the guy for wanting to go to Bahamas for his week off instead of tiring his old legs off in a 3-on-3 tourney in Nashville.
Quack Quack: Well look who decided to show up to the party. Even if Getzlaf and Perry have 17 combined goals on the year, and even if the Ducks have scored the fewest goals in the entire league, it's fiiiiiine, the Ducks are still sitting in a playoff spot. But wait Turkatron, how can you win if you don't score? Well kids, it's simple. Have John Gibson on your team. The NHL's rookie of the month for December pretty much backstopped the Ducks from last place, and into a playoff spot. Of course, the defense deserves credit for rarely allowing more than 25 shots per game, but it's been the play of Gibson that is turning heads. Back-to-back 1-0 shutout wins last week has to feel good for Gibson, but for the love of Christ can someone score a goal already? An unnamed source confirmed that head coach Gordon Bombay is available. I think it's knuckle-puck time in Anaheim.
Don't you dare touch Tom Brady's field: How was your New Years? What'd you do? I'll tell you what I didn't do, watch the Winter Classic, but it's okay because no one did. Actually, it was the lowest rated Winter Classic ever. Where to start with this one. First of all, don't you dare touch Tom Brady's field. That is a no-no. The Hap-less, Price-less Habs versus the Bruins. A game that featured two starting goaltenders with Tom Brady on their helmets…I'm confused. Tuukka Rask I understand, you're team shares a city with the New England Patriots, and you're playing in their stadium, so I get the shout-out. Mike Condon though, okay you're from Massachusetts but what the hell man. You play for Montreal, a bitter rival of Boston, and you love Brady and Belichick so much you put them on your mask? I respect that, and personally love it, but if I were a Montreal fan I'd question your loyalty to the team. On one side of your mask it says Montreal, on the other side it features Boston sports legends…figure it out bro.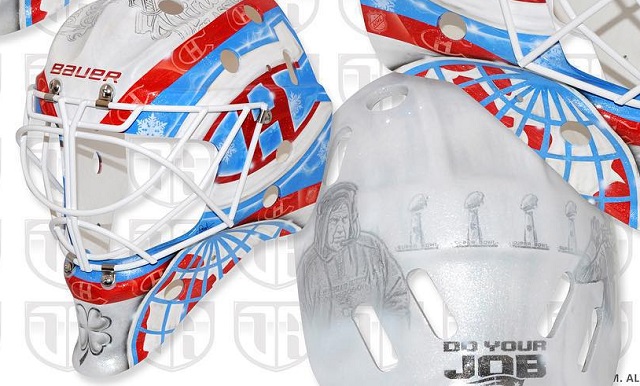 Stars of the Month: Quick shout-out to Johnny Hockey for earning 1st star of the month honors. Dude had 12 goals in 13 games and Flames won 11 straight home games because of it. Dare I say he's the best Flame since Jarome Iginla? Braden Holtby picking up 2nd star for being a monster, oh and going 9-0-1. Patty Kane got his third star of the month for also being a monster and leading the show in scoring with 19 points in 15 December games. Cheerio mates.
*