Miko Grimes, the wife of Miami Dolphins cornerback Brent Grimes who was arrested at a game earlier this season and hates everyone on the team besides her husband, definitely started Ryan Tannehill in her fantasy football championship. That's the only rational explanation for this epic Twitter rant (WARNING: VERY NSFW LANGUAGE):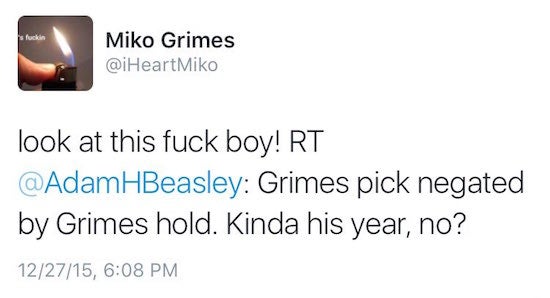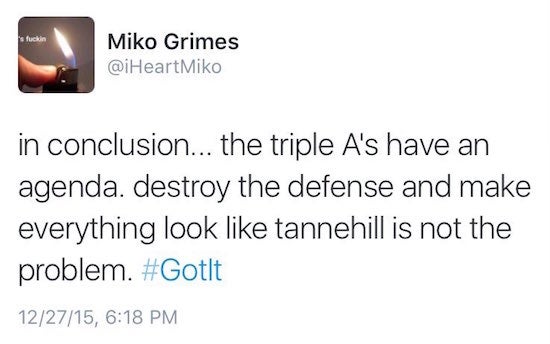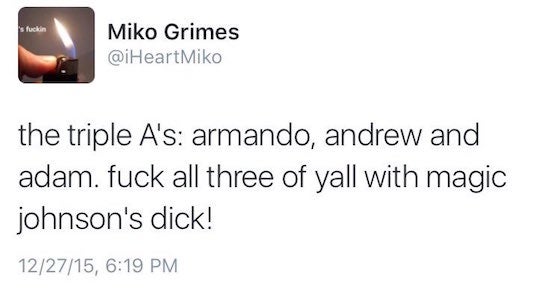 The "triple A's" are three Miami reporters that Miko Grimes doesn't like. Let's continue: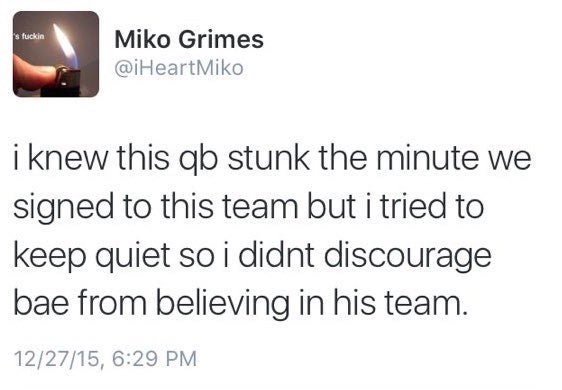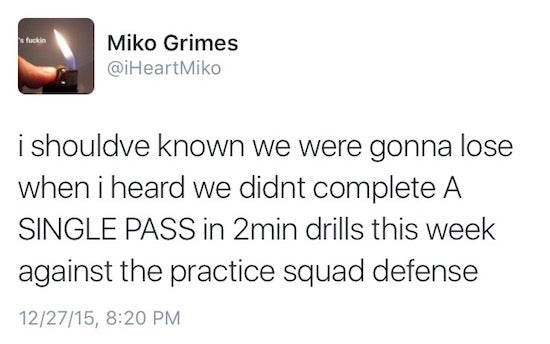 And the dagger:

Birds definitely don't do that — but I digress — I don't think people get this mad about real-life football anymore. Fantasy football though? I can't write 75% of the things I say during a typical fantasy Sunday. Brandon Marshall could intentionally burn down a house full of puppies, but I wouldn't give a sh*t if he went off for 100 yards and two scores. I WOULDN'T! Burn those puppies for all I care, just score me some damn points! It's gotten to the point where fantasy just trumps everything. I mean, let's be real…the NFL created a channel completely dedicated to fantasy football. NFL RedZone is a channel dedicated to NOT watching your "favorite" team play on Sunday.
As for Miko Grimes, I completely understand where she's coming from. I had to start Ryan Tannehill for my first two fantasy playoff match-ups (and somehow lived to tell about it) and you know what….I thought some of these same things too! He's been brutal! The Dolphins look to be completely f*cked with this guy at quarterback. It may be hard to find a quarterback who has taken more of a step back in 2015. I'm just not ignorant enough to post it on Twitter when my husband plays on a team with the guy and that said team has requested that I stop with all of this social media bullsh*t.
So that's the only explanation for a Twitter torching of this magnitude. Miko Grimes had to have started Tannehill in her fantasy championship, probably over Kirk Cousins. Better luck next year, Miko.